10 Must-See Spots During the Swatch Beach Volleyball Major Series
The Swatch Major Series opened their 2017 FIVB World Tour calendar in our very own backyard on Tuesday—Fort Lauderdale Beach! Receiving international media attention, this beach volleyball tournament will pair the world's greatest players for a chance at the grand prize of $600,000!
Here at 10 must-see spots within minutes of this incredible tournament!
1. B Ocean Resort – Wreck Bar Mermaid Show
Located right on Ft. Lauderdale Beach, and shaped to resemble a large ship built in the 1950's, the B Ocean Resort (originally the Yankee Clipper Hotel) is an interesting attraction. Inside, you will find the Wreck Bar, an oasis of nautical kitsch resembling the interior of a shipwrecked Spanish Galleon, complete with aquariums and briny decor throughout. Then there is also an extra bonus--large portholes that look into the hotel's pool from behind the bar. Friday and Saturday evenings 6:30 (and 9:30 PM for 21 and over), a live "Mermaid" and Aqua-dancer named MeduSirena and her "Pod" of "Aquaticats" swim past the portholes in the 'MeduSirena Swimshow', offering patrons a view of a more unusual Florida aquatic species.
2. Burlock Coast in The Ritz-Carlton
Burlock Coast Seafare & Spirits is the newest restaurant and bar in the heart of Fort Lauderdale. Nuanced by modern-coastal fare with a distinctly local undercurrent, Burlock Coast is an innovative restaurant-café-market-bar that channels the creativity of Prohibition era rumrunners. Its irreverent spirit, buzzing atmosphere, and firm focus on bringing hotel guests and neighborhood locals an unprecedented food and beverage experience make it a standout among restaurants and cocktail bars in the Fort Lauderdale area.
3. Casablanca Café
Known for its charming atmosphere, this trendy and popular eatery blends old and new to enhance the beauty of Fort Lauderdale's beach! Savor an array of unique and impeccably prepared flavors of American and Mediterranean specialties at Casablanca Cafe. Their world class cuisine and romantic Mediterranean ambiance make it a favored and anticipated destination. Experience an intimate meal inside the inviting dining rooms or enjoy the soft breezes as you dine at a scenic ocean view table on the patio of this beautifully restored historic home.
4. Fort Lauderdale Water Taxi
The Fort Lauderdale Water Taxi is one of the best ways to see the city! See sights that you would never see from land as you cruise along Fort Lauderdale's world famous waterways. You'll see gorgeous mansions and magnificent yachts along over a dozen stops between Fort Lauderdale and Hollywood. Your ticket allows all day on-and-off from any of the stops so you can sample the variety of restaurants, shops, attractions, and beaches.
Get your tickets now: http://watertaxi.com/store/
5. LuLu's Bait Shack
Founded on Cajun cuisine and Mardi Gras morals, Lulu's Bait Shack brings only the best of the bayou to Ft. Lauderdale, Florida. They've made a home right in the sand of Beach Place, surrounded by palm trees and ocean views. Guests can feel the salty breeze and enjoy their cocktail in a coconut as they order from the New Orleans menu selections and Raw Bar.
Relax over the weekend by sipping on one of their Famous Fishbowls or take advantage of the 4-7pm weekday Happy Hour specials.
6. Cafe Del Mar
An eclectic setting on all fronts, Cafe Del Mar is truly a place that stirs all the senses. Mediterranean in style with an Italian flair, the extensive menu features a variety of fresh seafood and pasta dishes, prime steaks and chops, homemade soups, entree salads and daily specials offering a traditional taste of Italy as prepared daily by their Executive Chef.
When the sun goes down, Cafe Del Mar heats up with some of the best live music and entertainers on the oceanfront mainstage. Pull up a seat at the bar or grab a table for dinner and delight in stellar sounds of flamenco guitar, latin, jazz, pop tracks and blues.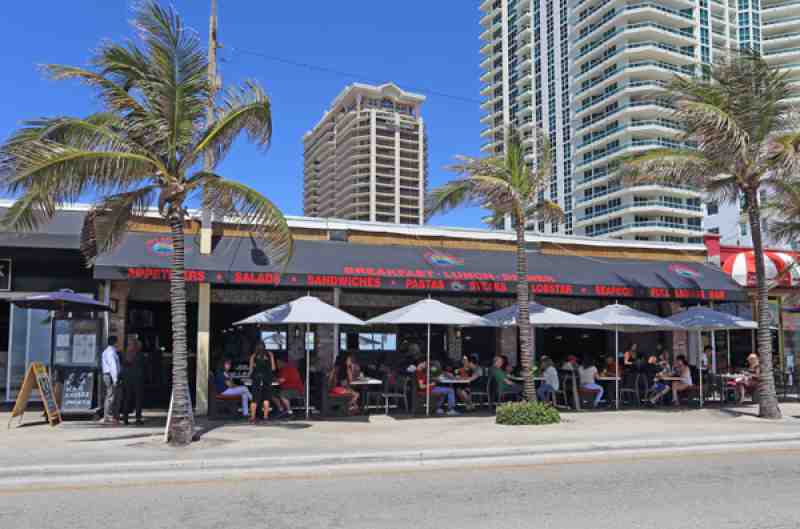 7. Stache Drinking Den + Coffee Bar
Stache Drinking Den + Coffee Bar is Ft Lauderdale's premier cocktail lounge, coffee bar, nightclub & concert hall celebrating the art of mixology. Let their bartenders excite your senses with one of the signature cocktails or one of the classics. Enjoy live entertainment, burlesque/cabaret shows, bands and DJ's. Stache is sure to give you and your guests a once in a lifetime experience of sight, sound and taste. Now Serving Panther Coffee and Seven Seas Teas Mon – Friday from 7am-5pm.


8. Hooters of Fort Lauderdale
This casual beach-themed establishment features music, sports on large flat screens and a menu that includes seafood, sandwiches, salads and, of course, Hooters original chicken wings. The "nearly-world-famous" Hooters Girls are the cornerstone of the Hooters concept. Hooters of Fort Lauderdale is surrounded by multiple parking options, including street, valet and a lot. Bicyclists will also find convenient spots to lock their bikes.
9. Jungle Queen Riverboat
The Jungle Queen Riverboat offers daily 90-minute cruises and 3-hour sightseeing cruises. The 3-hour cruise visits Jungle Queen's tropical isle featuring an alligator exhibit, exotic birds, and much more! The night cruise to the tropical isle features an all you can eat BBQ rib, chicken, and shrimp dinner and variety show. Over 18 million people from all over the world have come to visit this incredible attraction, and now it's your turn!
Buy tickets now: https://ecart.junglequeen.com/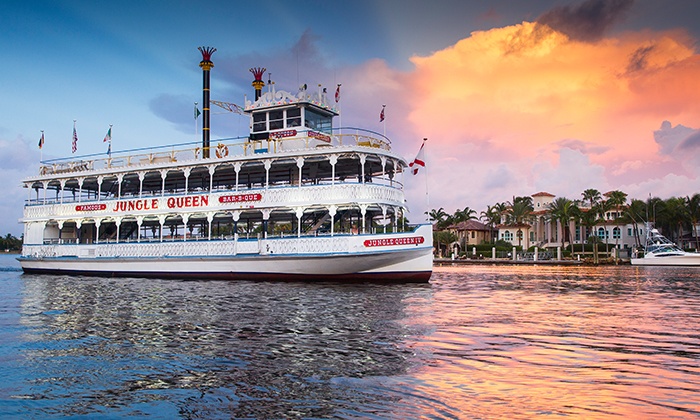 10. W Fort Lauderdale's Living Room
Be an insider and enjoy signature cocktails and light fare at the beachfront's hottest new it-spot, the Living Room. Lounge in sleek-yet-comfy décor and toast with fabulous cocktails as you enjoy prime people watching and smooth grooves from the DJ booth. Take it outside onto the terrace where perfect martinis and a tempting finger food menu are enjoyed overlooking the azure waters of the Atlantic.
Get to the Tournament - General Admission and VIP
Follow the SWATCH Major Series online at swatchmajorseries.com and on social media:
Facebook: SwatchBeachVolleyballMajorSeries
Twitter: @SwatchMajors
Instagram: @swatchmajorseries
#FTLMAJOR #SwatchMajorSeries
General admission is free for this incredible event and VIP tickets can be purchased here: https://us.swatchmajorseries.com/en/1100/vip-tickets-fort-lauderdale-major-2017